#defyhatenow Field Guide Cameroon 2.0
Social Media Hate Speech Mitigation Field Guide [Second Edition 2021]
The Field Guide offers tools and strategies to be used by community-based organizations & online campaigns for peacebuilding. This is the second version of the Cameroon Field Guide that incorporates more context from the lessons learned from implementing the project over a two year period.
#defyhatenow aims to raise awareness of and develop means for countering social media based hate speech, conflict rhetoric and directed online incitement to violence and to amplify 'positive influencers' occupying Cameroon's social media landscape with voices of peacebuilding and counter-messaging rather than leaving that space open to agents of conflict. Divided into six chapters that cover a specific aspect of the conflict and peacebuilding process, the field guide acts as a base of action on media-induced hate speech awareness to tackle conflict, support media literacy and address issues of migration and displacement.
Developed and compiled by the #defyhatenow initiative with selected excerpts from materials published by collaborative partner organisations & networks, 2021.
The Field Guide Contains:
One A4 Field Guide Booklet

that covers a range of topics and includes discussion questions. 

A5 Flashcards,

which summarize content from the Field Guide and can be used for group discussions.

A1 Poster & Game,

which provides a quick reference guide on one side and a #HateFreeCameroon game on the other side that is designed to be played in groups to help reinforce the topic.

 
1 Dice

used to play the #HateFreeCameroon game.

A2 Posters

that visually illustrate topics covered in the Field Guide and can be used to lead discussions or hung on walls as reminders. 

A USB 'Key'

with video and audio materials and links to additional resources. 

1 'PenNotGun'
2 packs of post-it sticky notes

to get you started.

1 sturdy pouch that serves to keep all materials contained.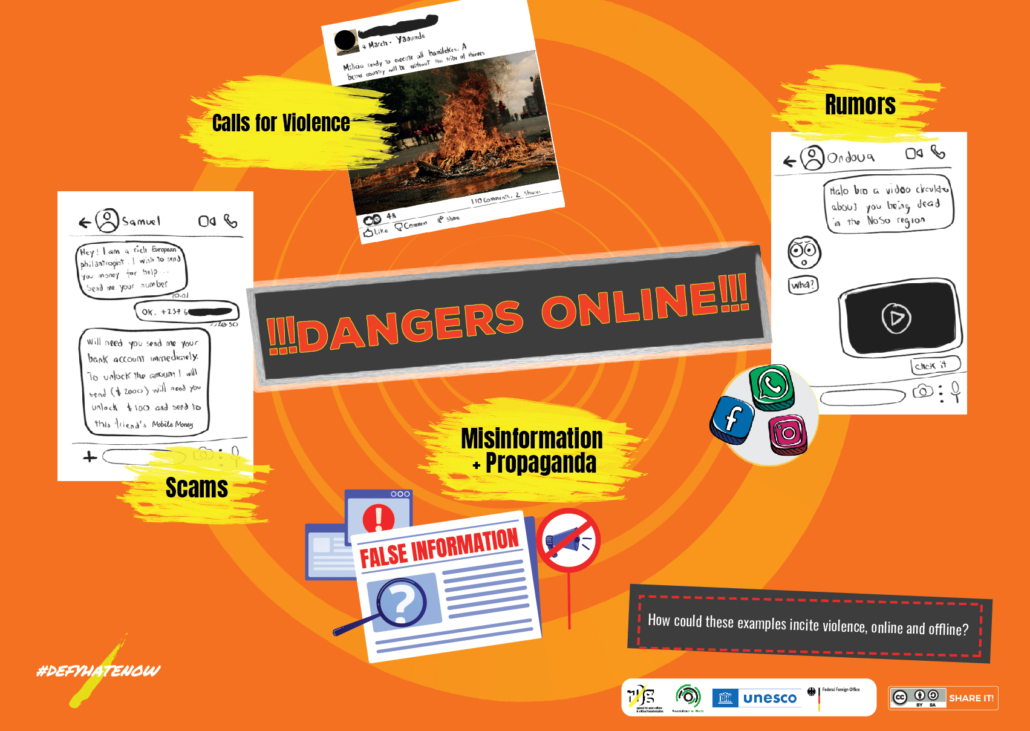 Credits
https://defyhatenow.org
[email protected]
©2021 r0g_agency for open culture and critical transformation gGmbH Berlin
Concept: r0g_agency gGmbH Berlin, Stephen Kovats & Susanne Bellinghausen
Field Guide Architect: Kendi Gikunda
Field Guide Authors + Editors: Sara Budarz & Kendi Gikunda
Field Guide Game Concept: Jodi Rose
Cameroon Country Manager: Ngala Desmond
Field Guide Contextual Editorial Consultants: Eugene N Nforngwa, Marie-Noelle Guichi, Franklin Sone Baiyen, Blaise Bebey Abong, Kachoumi Babbette & Kinang Derick Fai
Field Guide Design and Layout: Heike Bluthardt
A1 Short Guide to the Field Guide Poster Design: Cara Schwartz & Heike Bluthardt
Cameroon Illustrations, A2 Posters & Game: Felix Fokoua, Heike Bluthardt & Paul Simiyu
Translation: Carole Leuwe, Lobe Sylvie & Tchengang Tchiengue Loris Donald
#defyhatenow Social Media Hate Speech Mitigation Field Guide is licensed under a Creative Commons Attribution-ShareAlike 4.0 International License.
print ISBN: 978-3-949253-02-7
ebook ISBN: 978-3-949253-03-4
Cameroon, Second Edition
Archive
Past Field Guide Cameroon kit – English
Social Media Hate Speech Mitigation Field Guide [Pilot Edition 2019-2020]
The #defyhatenow Field Guide Cameroon offers tools and strategies to be used by community-based organisations & online campaigns for peacebuilding in Cameroon.