Over 300 delegates met in Paris, France for three days to discuss the Use of artificial intelligence, combating disinformation, climate change, and support for media outlets in exile…
From 11 to 13, July 2023, Paris was the centre of discussion on existing and emerging information and communication technologies, particularly those affecting decision making in today's world. 45 countries united in the same place for three days, with 300+ delegates grouped in five major conference and 15 workshops; interpreted simultaneously in three languages: English, French and Arabic. Countering disinformation eventually starts by rendering information accessible [in real time] to ensure that receivers are all on the same page. Where words could not clearly define or describe the issue at stake, an additional measure was taken thanks to www.cartoningforpeace.org that instantly recreated the main ideas in drawings. Such was the atmosphere that reigned in the French capital, stressing the urgent need to adopt global strategies towards addressing global threats!
On the recommendation of Africa's leading independent factchecking organisation, Africa Check, #defyhatenow gladly in CFI Media & Development Forum on disinformation, Artificial Intelligence, climate change and new technologies. #defyhatenow join the Africa Facts' pan-african network in 2022 thanks to our track record in countering violent extremism both on and offline in Cameroon. Joining the network has been a booster in our response to curb mis/disinformation as well as opened our organisation and Fellows to opportunities both at home and abroad: "Africa Check was happy to be party of the organisers of the CFI forum. It had the opportunity to invite stakeholders from across the continent to participate in international conversations and solutions to tackle misinformation and disinformation," Dudu Mkhize, Head of Outreach at Africa Check.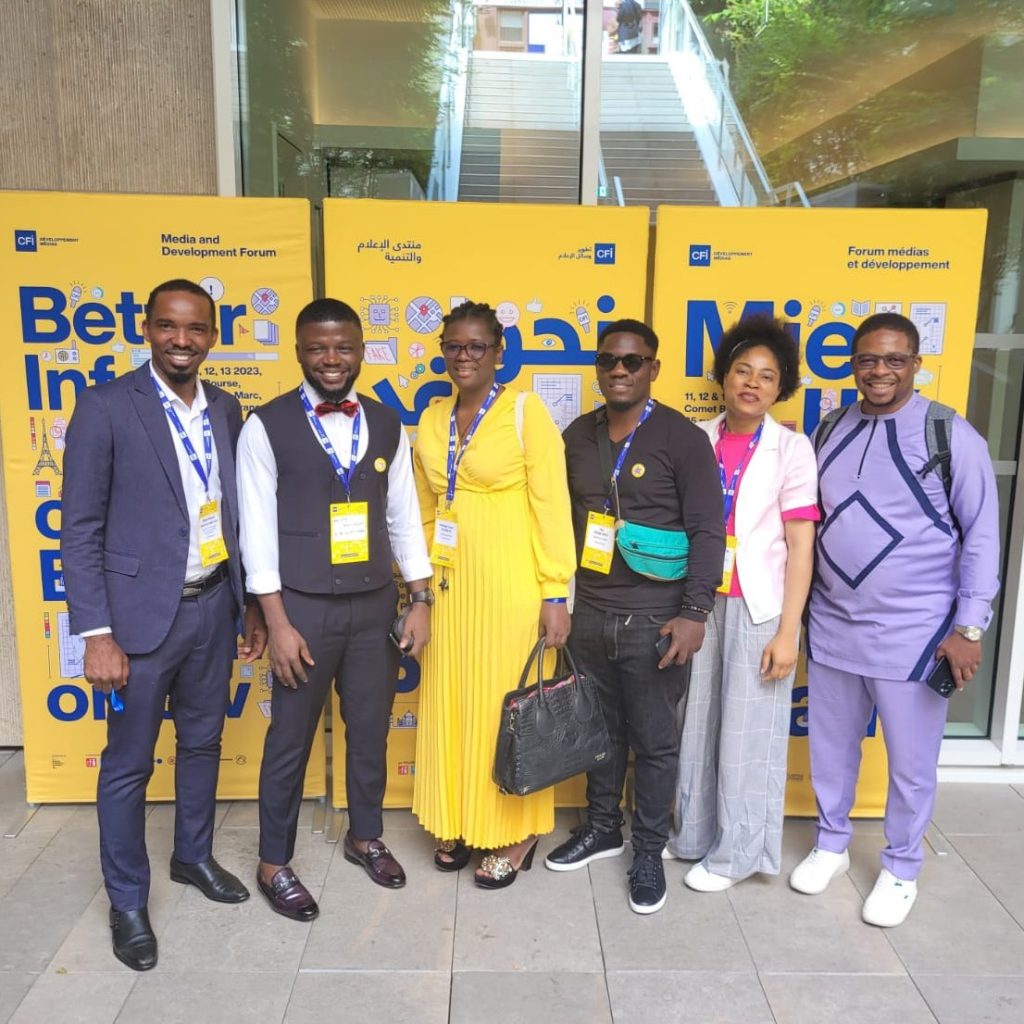 The Cameroonian delegation to the Forum on several panels shed light on the different forms of mis/disinformation witnessed in the country, mostly spurred by political, religious and ethnic undertones. Discussions also looked at how the absence of or low media and information literacy is a driver of mis/disinformation especially among youth. Looking also at hatespeech gradually shaped in the form of satire/humour but which later grows to incite violence, delegates reflected on innovative methods to curb the spread of these vices through education. Top on the agenda was equally emerging technology trends and tools, particularly the use of artificial intelligence. Looking at how these tools influence the information production and sharing chain, factchecking organisation's efforts towards promoting fact-based information both on mainstream and social media.
Below are some of our key focuses areas as regard supporting media development and promoting #SafeDigitalSpaces for all internet users:
#Media4Peace Programme aims at enhancing the capacities of journalists on conflict-sensitive reporting. Themed Catalysing Media for Peace and Justice in Cameroon, we have currently trained over 150 Journalists based and operating North West, West, South West and Center regions. Owing to the role of community radios in information dissemination, the Pidgin version of the programme saw the training of 50 members of the Association of Broadcasters in Pidgin English. Based on feedback after the Regional Workshop and Mentorship Series, a Media Guide on Hatespeech was developed to help media professionals gain skills on addressing hatespeech and violence in the media. It is in continuation of this vision, that #defyhatenow hosted a one-day Media Leaders Forum in Yaounde on April 28, 2023. Read the session's declaration on the theme: "Upholding Free Speech & Countering Hate Speech in the Media: Striking a Balance".
Closely related to the above programme is the #Africa Fact Checking Fellowship #AFFCameroon. The advent of social media in a pluralistic country like Cameroon, has brought good tidings; but also introduced an unprecedented wave of information spread, generally characterised by fake news, disinformation and to some extent, incitement to violence. #AFFCameroon is a quarterly Fellowship that has trained 140+ journalists, bloggers, digital rights activities and CSO leaders on using advanced verification tools, producing factchecking reports and analysing social media trends. After training seven consecutive cohorts, ALL Fellows and experts met in Yaounde, alongside other guests during the two-day Conference on Disinformation on November 18 and 19, 2022. The quarterly Fellowship's Cohort 8 is currently in session, with some thematic innovation like media and democracy, media and governance, climate change and the use of artificial intelligence in the digital age.
#defyhatenow Social Media Hate Speech Mitigation Field Guide
The Field Guide offers tools and strategies to be used by community-based organizations & online campaigns for peacebuilding. #defyhatenow aims to raise awareness of and develop means for countering social media based hate speech, conflict rhetoric and directed online incitement to violence and to amplify 'positive influencers' occupying Cameroon's social media landscape with voices of peacebuilding and counter-messaging rather than leaving that space open to agents of conflict. Divided into six chapters that cover a specific aspect of the conflict and peacebuilding process, the field guide acts as a base of action on media-induced hate speech awareness to tackle conflict, support media literacy and address issues of migration and displacement.
About #defyhatenow
#defyhatenow, an Initiative of r0g_agency for open culture and critical transformation in Berlin, was introduced in Cameroon with funding from the German Federal Foreign Office. Applying a bottom-up approach, we work to provide community-based, data-driven solutions to the problem of hate speech, misinformation and fake news. #defyhatenow initiative is implemented in Cameroon by Association Civic Watch, working to enhance the capacities of primarily youth and civil society organisations with focus on creating a framework for building trust among stakeholders by mobilising civic action against all forms of hate speech and incitement to violence. #defyhatenow seeks to help voices against online-induced conflict go 'viral' within and outside affected regions by engaging youth, community leaders, grassroots organisations and other civil society actors in a framework of peace in media and information.
#defyhatenow #AFFCamerooon #ThinkB4UClick #SafeDigitalSpaces #HateFreeCameroon